Hello from New Zealand – It's your friendly Kiwi here!
I've been "Missing in Action" – well mostly in action – while away – but definitly "Missing in Inaction" since getting home last Monday. I've been mostly in my bed, or on the couch with a cough & cold since our epic 61-hour trip home was completed. Feeling much better now and pleased to be hopping with the Tutorial Bundle Design Team.
I will try to blog a bit about our fabulous 4 weeks away which included the week-long Stampin' Up! Incentive Trip. If there is one word to describe the trip – I think it would be "WOW"!
I'd again like to take the chance to thank all my customers and team and family and friends who support my business and who helped me earn this trip! I do appreciate the support you give me!
All Star Tutorial Bundle Design Team
Here's a look at the current All Star Tutorial Bundle Design Team. I'm humbled to be part of such an incredible group of amazing women and have them as part of My Story! And it was so great to be able to catch up with many on the Greek Isles Trip – along with lots of other fab Stampin' Up! peeps!
The team is ready to help you create beautiful handmade projects featuring Stampin' Up! products. We have a June Tutorial Bundle and a Blog Hop for you.
All Star Tutorial Bundle
Our Design team has created a bundle of 12 tutorials using Stampin' Up! products.
This month the bundle contains tutorials for traditional style cards, 3D packaging, fancy fold cards, and paper crafting techniques! It's full of fabulous projects you don't want to miss out on. It's jam-packed with inspiration with products from the new 2019-2020 Annual Catalogue and even some using product we received from the not-yet-released Holiday Catalogue while we were on the Incentive Trip! Here's a Sneak Peek of what you will receive in the bundle.
August Bundle Sneak Peek
The Tutorial Bundles are based on currently available supplies from Stampin' Up! and will have both metric and imperial (inches) measurements. So no matter where you live in the world, you can purchase these tutorials and use them to create great projects!
The Tutorial Bundle is $NZ21 – or place an order over $NZ50 this month with me to receive this month's tutorial for free. See the details at the end of the post to find out how you can get this exclusive bundle of tutorials.
All Star Tutorial Bundle Design Team Blog Hop
Remember, the projects in the Blog Hop are not the same projects as in our tutorial – the projects in the Tutorial Bundle are exclusive and not shown anywhere else.
My project is my 3D swap for the Incentive Trip. Joining the swaps are voluntary. In this swap, those participating made 26 identical 3D items and handed them into the Stampin' Up! staff at the Hospitality room at the beginning of the trip, towards the end of the week we were able to collect a package that contained 25 different 3D swaps. I just love swapping as you get lots of great projects and ideas back.
This year I did "Kiwiana" themed swaps – for both my 3D swap and my card swap.
Here's a look from another angle.
As soon as I saw the "Slice of Happiness" stamp set I knew I had to have it. It had a Kiwifruit image – how could a Kiwi girl resist?!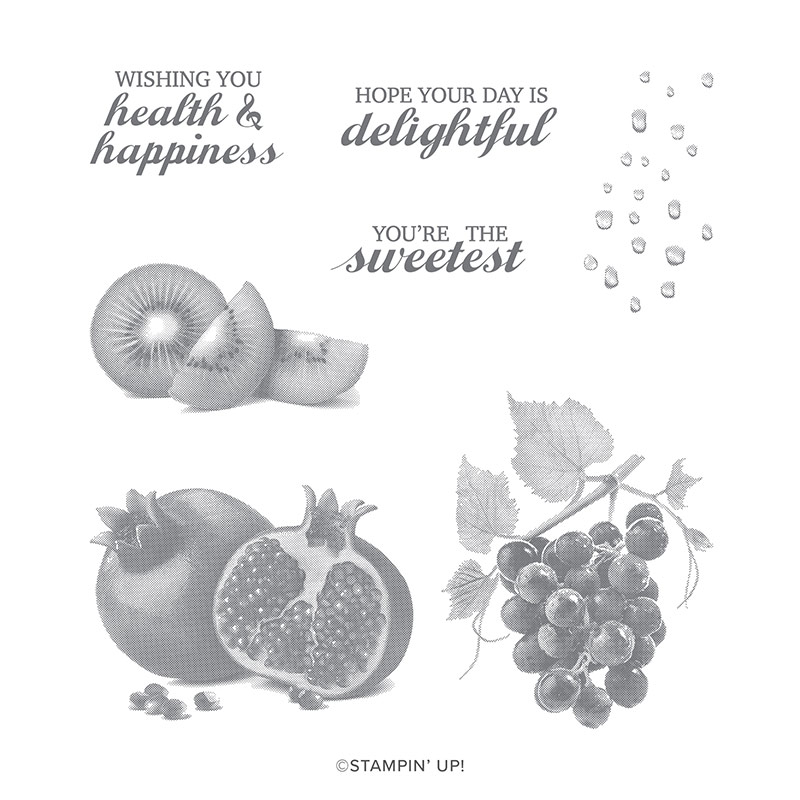 A slice of kiwifruit is indeed a slice of happiness
Note: Some info from a Kiwi girl!
New Zealanders ALWAYS call this tasty fruit a Kiwifruit – NEVER a Kiwi.
A "Kiwi" is the bird – we don't call it a "Kiwi Bird" – just a Kiwi. New Zealanders are also referred to as a Kiwi. So when we talk about Kiwis, we are referring to the bird – or the people.
We eat Kiwifruit – we don't eat Kiwis!
Inside my gift box are some kiwifruit lollies. (Lollies = candy/sweets)
The "crate" is made with the "Perfect Parcel" dies. I've modified it a little and added a ribbon handle to make a crate shaped box.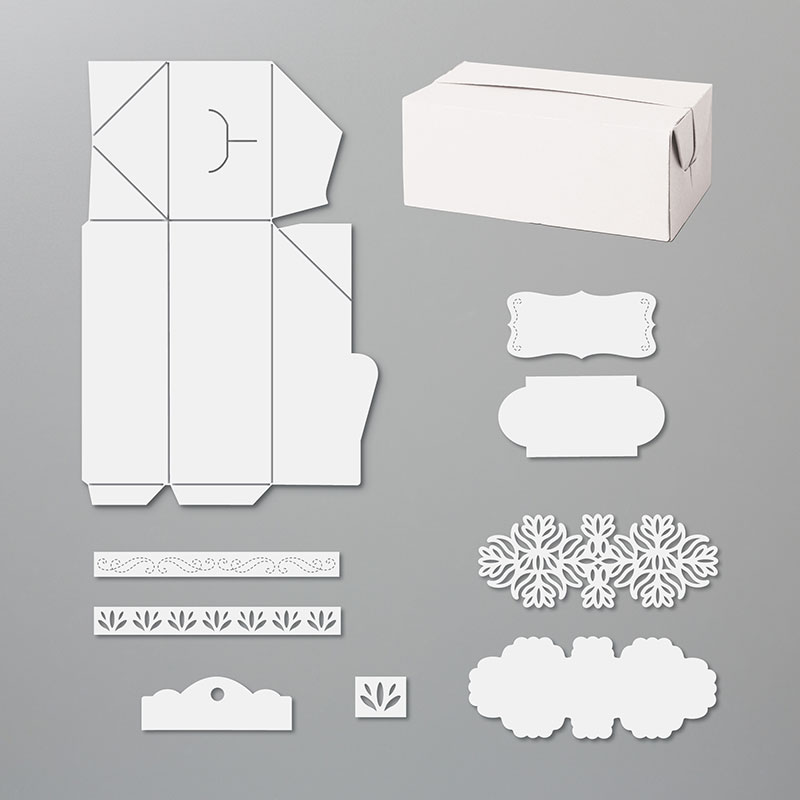 The set only arrived days before we left for our trip – so I frantically cut and stamped everything I needed – but didn't get these little cuties made up.
So on our first quieter day on our holiday in Italy, I spent some time to construct them – I even had a little help!
It's quite a production line!
One of the great things about this parcel die is that even after the box has been constructed, you can fold it flat – perfect for a swap that was traveling many, many miles!
The Old Olive paper from the Noble Peacock Specialty Designer Series Paper coordinates beautifully with the kiwifruit images, which have been stamped in Granny Apple Green.
My project in August's Tutorial Bundle also features some Kiwifruit treats! Here is a sneak peek of my tutorial project.
Now, it's time to enjoy the other fabulous creations by the All Star Design Team.
Please visit each of the incredible All Star Designers:

How to get the Tutorial Bundle
There are three ways you can receive the February 2019 All Star Tutorial Bundle:
SHOP WITH ME
If you live in New Zealand, you can shop with me, and as part of my customer loyalty rewards program, you will receive this month's tutorial Bundle absolutely FREE with an order of $50 or more with me during the month.
That can be as simple as placing an order in my
New Zealand Online Stop
and using the current hostess code – see the top right for the current code. Your order will be delivered directly to your door.
SUBSCRIBE to the Tutorial bundle:
As August marks the start of our six month rotation – there is a subscription available this month.
Pay for 5 months of the All Star Tutorial Bundle ($105) – get the six month's Bundle for FREE.
BUY THIS MONTH'S TUTORIAL BUNDLE
Purchase the August Tutorial Bundle for $NZ21
All currencies accepted, PayPal will do the conversion for you.
BE a thINK CREATIVE TEAM MEMBER
If you are in my New Zealand Team of Stampin' Up! Demonstrators, you'll be receiving all of the tutorial bundles for FREE!
Keep an eye out in your inbox!
If you'd like to be part of my thINK Creative Team, I'd love to have you join us.
REMEMBER
If you live in New Zealand and would like a copy of the new catalogue, please contact me.
If you live in New Zealand and would like a demonstrator to order through – I'd love to have you join my group of crafty customers. Let's journey together! – Shop Now or contact me.
If you live in New Zealand and would like to know more about becoming a demonstrator – Check out the info HERE. I'd love to have you join my thINK Creative Team!

As always – if you wish to know anything more about info in this post, or to get a catalogue, or to join my thINK Creative Team, or to buy any of the items mentioned in the post – please contact me.
Or you can shop 24/7 at my online Stampin' Up! shop – the table below shows you what products I used. Just click on each to see more information.
Product List
Please do use the hostess code to support creativeJax if you are ordering online!

Entering the Hostess code combines the value of online orders – which assists me to offer events and thank you's for my customers and support charities such as Ronald MacDonald House and local events where I donate product and/or classes.

The current Hostess Code can be found at the top right of my webpage.

If your order is over $300, please

do not use this code

as You become the hostess and get the Rewards!
If you would like to find out about joining my Stampin' Up! Team (thINK Creative) –
Please do get in touch – I would love to chat with you about that.