Hello There
I've used lots of different Stampin' Up! products in the projects I am sharing today – a wedding invite, an engagement card and a wedding card & a couple of wedding reception items!
I had the pleasure of attending the wedding of my niece, Amie, and her partner, Josh a couple of weekends ago – so exciting!
Back in October they won a competition and the prize was to get married at The Repco Beach Hop – an annual Rock 'n' Roll Festival held in Whangamata every year!  What an amazing prize!
Here's a picture of the happy couple so you know who I'm talking about!
You can check out the details – including the numerous wonderful sponsors  who helped make this possible – on the Whangamata Wedding Facebook Page's post in this link:
While many items were included, many weren't so Amie & Josh have worked tirelessly to put together a fabulous day for themselves and their guests – it's been a frantic few months!
I had the absolute pleasure of helping Amie & Josh with their invitations. The future Bride and Groom put a lot of thought into what they wanted and we got a plan together that saw Real Red, Basic Black and Whisper White combine into an amazing record and sleeve invitation. They designed and printed the graphics to work with the double-record and sleeve concept and then my Cameo Silhouette got a good workout, along with several Stampin' Up! punches, the trusty Simply Scored scoring board and the Stampin' Trimmer. The record is a purchased pattern from svgcuts (Rockin and Rollin SVG Kit).
Making the invites up was a fun filled day shared not only with the Bride and Groom but also each of their mothers and a bridesmaid – a great team effort. The MoB and MoG took to the Envelope Punch Boards like ducks to water and made all the envelopes.  Josh was rather taken with all the great Stampin' Up! tools!  And I got the first invitation – yay!
For their engagement card I CASE'd a beautiful card I found on Pinterest by Valerie Moody. I added some Real Red to tie in with the wedding colours.
Here's a close-up. I love the effect of cutting a sentiment and this larger sentiment from the Your Perfect Day stamp set really suits this technique.
And, as I usually do, I carried the theme through to the inside of the card and onto the envelope.
The inside sentiment (@thefuturemrandmrs) from the So Social stamp set was particularly apt for the couple – social media played a part in their winning the wedding competition and will continue to be a part of their day – even after they are married.
For their wedding card I went back to the svgcuts kit. There are some great projects in the kit but it was an easy choice for me to make a jukebox card.
The black, red and white wedding colours were joined by lots of shiny elements – Silver Foil Sheets, Silver Fancy Foil Designer Vellum, Silver Glimmer Paper, Dazzling Diamonds Glimmer Paper and Basic Rhinestones.
I used the Congrats from the You Perfect Day again – this time on the inside – along with the cute cake from the same set. It's a bit hard to see, but I used my Stampin' Write Markers to colour the cake stamp in a mix of black and red – love my markers! The "just married" sentiment was added to be the currently playing song on the jukebox.
Just as I had on their engagement card, I punched two overlapping hearts on the inside of the card with the cute wee sweetheart punch from the Itty Bitty Accent set of punches.
The jukebox card was a non-standard size – but that's no problem with the trusty Envelope punch Board and some Designer Series Paper (Back to Black DSP). It is so easy to whip up an envelope of any size!
I was really pleased with how this card & envelope came together.
In case you're wondering – for a gift, we gave the happy couple a Project Life album which I had started for them using the Love Story Card Collection and Accessory Pack along with some Real Red, Basic Black and Whisper White cardstock and the Stacked with Love DSP Stack.  Of course there were a few hearts punched out ready for them to add. I'm looking forward to seeing the album once they have their photos in it.
Amie and Josh wanted to have a reminder of the guests so printed out a wedding tree where each guest could leave their finger print. As it is approaching autumn here in New Zealand, they chose some autumn colours for the leaves (Cajun Craze, Pumpkin Pie and Daffodil Delight).
Amie & Josh also made cute lolly jar wedding favours  – with names perfectly sized for an oval punch!
Thought you might like to see one more picture – this one from the Bay of Plenty Times News Paper.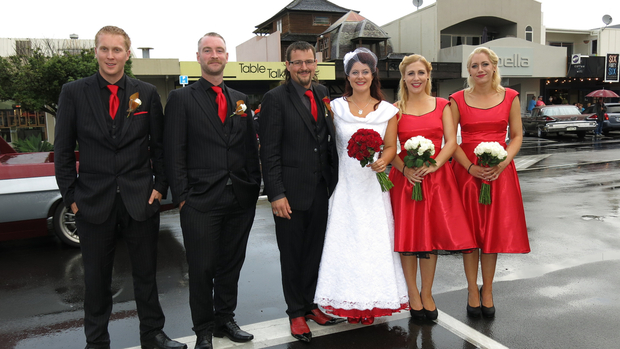 Thanks so much for letting me be part of your day Amie & Josh – it was fabulous.
Until next time
Jackie
As always – if you wish to know anything more about info in this post, or to get a catalogue or to buy any of the items mentioned in the post, please contact me.
Or you can shop 24/7 at my online Stampin' Up! shop – just click on any of the products in the table below, and you should find yourself in my online shop at the page with information about the product.
If you would like to find out about joining my Stampin' Up! Team (thINK Creative) –  get in touch – I would love to chat to you about that.
You can receive my Blog Posts directly by email or join my monthly Newsletter group –  you can subscribe using the buttons at the right of my page.