Welcome to this month's Design it with Designer Series Paper Blog Hop.
Our Design Team is made up of Stampin' Up! Demonstrators from throughout the world – one from each of the countries/markets that Stampin' Up! has a presence in. We have come together to share projects focusing on the beautiful Designer Series Paper (DSP) in the Stampin' Up! Catalogues.
Each month we will be featuring a different designer series paper and in March we are featuring a DSP from the Occasions Catalogue – the Classic Garage DSP
Here's all the important info:
Classic Garage 6″ X 6″ (15.2 X 15.2 Cm) Designer Series Paper 148482
Cog wheels and oil cans and screwnuts and pliers,
Screwdrivers, road maps, street signs, and fins,
These are a car lover's favourite things!
* 48 sheets: 4 each of 12 double-sided designs
* 6″ x 6″ (15.2 x 15.2 cm)
* Acid free
* Lignin free
Coordinating colours: Basic Black, Basic Gray, Crushed Curry, Pumpkin Pie, Real Red, Tranquil Tide, Very Vanilla, Whisper White
I recently made these cute gift bags & cards for some special international visitors to New Zealand who I had seen just the week before in Australia!
They were traveling by van in Australia so I thought the Classic Garage DSP with Tranquil Tide bases were perfect for the three men in the group.
The sentiment is from One Wild Ride – again, perfect for the purpose of my gifting.
Here's a close up of the sentiment – don't you love the multicoloured effect?!
To make this graduated colour effect, I inked up one of the soon to be retired Uninked Spectrum Pad. I'm rather sad to see these retire as I have loved the many different ways they can be used. The Uninked pads are on low Inventory in the South Pacific – so if you would like one or two – get in quick and order them now – before they are gone!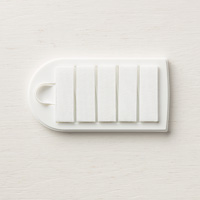 I used colours from the DSP in my Spectrum Pad – Basic Black, Smoky Slate (instead of Basic Gray), Tranquil Tide, Crushed Curry, and Real Red.
There are several videos on YouTube with advice on how to ink these pads up and put them into action – just Google Stampin' Up! Spectrum Pad.
The second gift and card featured one of the other DSPs in the set – it has cute little road signs.
And the third card featured DSP with gauges all over it – too cute!
You can see some stamping on the inside of the card – here's a better look at that below.
Love how that oil-leak-looking image has turned out using the Spectrum Pads.
Thanks for joining me on our Design it With Designer Series Paper Blog Hop featuring the Classic Garage Designer Series Paper.
Please check out all the other amazing creations by the rest of the Design Team!
REMEMBER
If you live in New Zealand and would like a copy of the new catalogue, please contact me.
If you live in New Zealand and would like a demonstrator to order through – I'd love to have you join my group of crafty customers. Let's journey together! – Shop Now or contact me.
Anyone who purchases $NZ50 of Stampin' Up! product from me in a month will receive the All Star Tutorial Bundle for Free.
The Bundle contains 12 pdf tutorials designed by demonstrators from throughout the world and it will be emailed directly to you.
If you live in New Zealand and would like to know more about becoming a demonstrator – Check out the info HERE. I'd love to have you join my thINK Creative Team!

As always …
if you wish to know anything more about info in this post,
or to get a catalogue, or to join my thINK Creative Team,
or to buy any of the items mentioned in the post
… please contact me.
Shop online
Please do use the hostess code to support creativeJax if you are ordering online!

Entering the Hostess code combines the value of online orders – which assists me to offer events and thank you's for my customers and support charities and local events.

The current Hostess Code can be found at the top right of my webpage.

If your order is over $300, please do not use this code as You become the hostess and get the Rewards!
Join my team
If you would like to find out about joining my Stampin' Up! Team (thINK Creative) – Please do get in touch – I would love to chat to you about that.
Get my Newsletter
You can receive my Blog Posts directly by email or join my monthly Newsletter group – you can subscribe using the buttons at the right of my page.