Welcome!!!
It's fun to be hopping with the Scrapbooking Global – Stampin' Up! Group today. So pleased you are hopping by!
If you're not familiar with the group – this is a closed Facebook Group that "… is for Scrapbookers who use Stampin' Up!. This group is open to anyone…Demonstrator or not." The group shares projects feature mostly Stampin' Up! products – used in any Scrapbooking/Memories and More/Project Life/Mini Albums and Samplers/Canvases.
Marga Bultena is Guest Designer for June, and her Theme is Birthdays and Parties. So I'm imagining you will see lots of happy fun layouts today.
I'm sharing a layout of photos taken at my Dad's 80th Birthday Party. Of course, we try and get a great family picture when we are together. I don't know what taking family pictures is like for you – but getting the five of us siblings together, in the same photo and all looking half decent in just one photo has always been tricky!
Then add in now adult offspring and partners – on both sides of the lens – and it doesn't get any easier!
But the hijinks and laughter behind the photos are all part of the party and that's what I wanted to convey in this layout!
Not sure if you can see in the photos above, but the hearts in centres of the camera apertures are shiny. I added some Fine Tip Glue onto the image to get that look.
I really wanted the photos and the camera images to be the feature so haven't added lots of texture or other embellishments – though I did add a little texture to the Smile sentiment.
Most of the images and sentiments come from the gorgeous "Capture the Good" Stamp Set.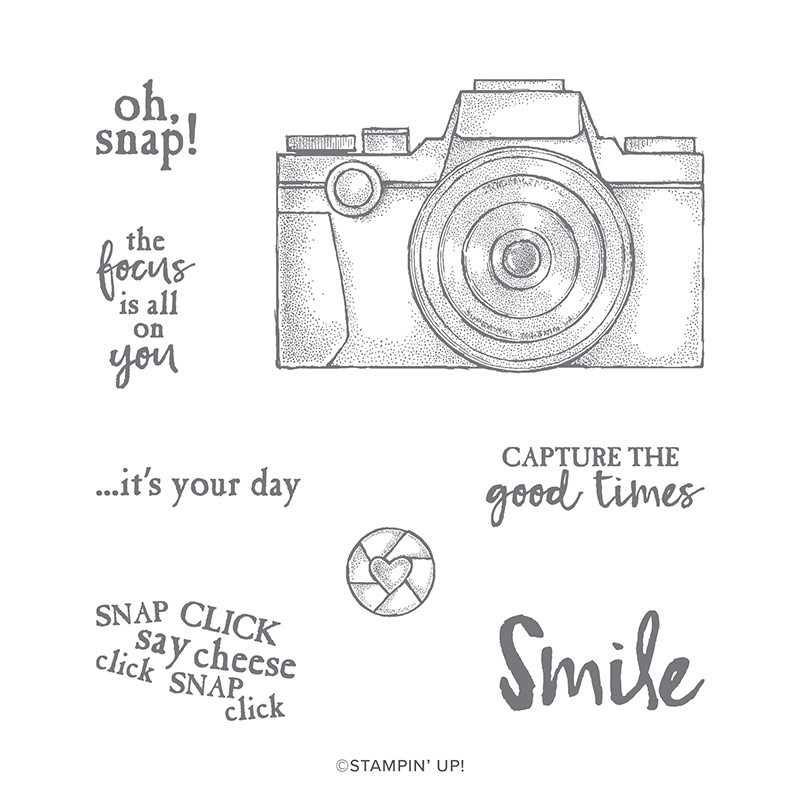 I know this set is going to see a lot of ink.
But I also used the "family" definition from Praiseworthy Prose and the numbers from "Family Party" – how perfect for this layout and hop!
Hope you get a smile from my wonderful family – I love them all dearly!
I'm glad I can capture and record these good times. If you're in New Zealand and looking for a creative coach – there's lots of info about how I can help further down.
Next in our Blog Hop today is Diana
Please hop on through all the other Blog Hop participants from around the globe check out their amazing creations.

If you live in New Zealand and would like a copy of the new 2019-2020 Stampin' Up! Catalogue – contact me for details Email Me
Looking for inspiration from a group of Global Demonstrators – try the "All Star Tutorial Bundle".
There are three ways you can receive the June global Tutorial Bundle:
SHOP WITH ME
If you live in New Zealand, you can shop with me, and as part of my customer loyalty rewards program, you will receive this month's tutorial Bundle absolutely FREE with an order of $50 or more with me during this month.
That can be as simple as placing an order in my
New Zealand Online Stop
and using the current hostess code – see the top right for the current code. Your order will be delivered directly to your door.
BUY THE TUTORIAL BUNDLE
Purchase the June Tutorial Bundle for $NZ21
All currencies accepted, PayPal will do the conversion for you.
Note: the tutorial will be sent to the email address listed on your PayPal account within 48 hours
BE a thINK CREATIVE TEAM MEMBER
If you are in my New Zealand Team of Stampin' Up! Demonstrators, you'll be receiving all of the tutorial bundles for FREE!
Keep an eye out in your inbox!
If you'd like to be part of my thINK Creative Team, I'd love to have you join us.
REMEMBER
If you live in New Zealand and would like a copy of the new catalogue, please contact me.
If you live in New Zealand and would like a demonstrator to order through – I'd love to have you join my group of crafty customers. Let's journey together! – Shop Now or contact me.
If you live in New Zealand and would like to know more about becoming a demonstrator – Check out the info HERE. I'd love to have you join my thINK Creative Team!
As always – if you wish to know anything more about info in this post, or to get a catalogue, or to join my thINK Creative Team, or to buy any of the items mentioned in the post – please contact me.
Or you can shop 24/7 at my online Stampin' Up! shop – the table below shows you what products I used. Just click on each to see more information.
Please do use the hostess code to support creativeJax if you are ordering online!

Entering the Hostess code combines the value of online orders – which assists me to offer events and thank you's for my customers and support charities such as Ronald MacDonald House and local events where I donate product and/or classes.

The current Hostess Code can be found at the top right of my webpage.

If your order is over $300, please do not use this code as You become the hostess and get the Rewards!
If you would like to find out about joining my Stampin' Up! Team (thINK Creative) – Please do get in touch – I would love to chat to you about that.
You can receive my Blog Posts directly by email or join my monthly Newsletter group – you can subscribe using the buttons at the right of my page.